Description
THE CONCEPT OF THE ROW-A-THON IS SIMPLE.
ONE ROWER WITH TEN TEAMMATES ROWING 26.2 MILES FOR TIME. THE FIRST TEAM TO FINISH RECEIVES THE BRAGGING RIGHTS FOR SUPPORTING A GREAT CAUSE, AND THEY WILL ALSO WIN THE PRESTIGIOUS GOAT TROPHY.
WITH A $45.00 REGISTRATION YOU WILL RECEIVE AN EVENT T-SHIRT AND NINE NEW FRIENDS (UNLESS YOU'RE REGISTERING A TEAM THEN YOU'LL GET TO HANG WITH NINE OLD FRIENDS).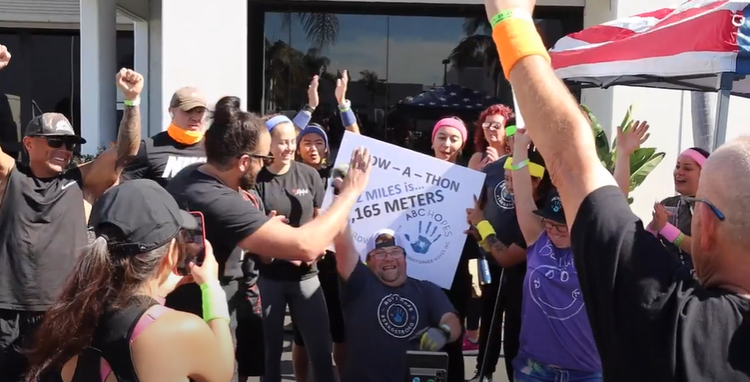 BENEFITING: JASON VITITOE'S CANCER TREATMENT & MEDICAL BILLS
Jason Vititoe, the husband of NLPT member Onia Vititoe. Jason has been on a wild health journey since learning about his cancer earlier this year. He has completed his six weeks of radiation and is continuing with chemotherapy rounds as well as physical therapy to help with his deficits. Funds raised from this event will go to supporting Jason's medical bills.
JASON'S STORY, TOLD BY HIS WIFE, ONIA:
On August 22, 2022, we were given news that would change our lives forever.
Jason suffered from lack of motivation, headaches and what we now know of as "foot drop". If you know Jason, you know he loves to work and what we assumed was stress was actually a tumor inhibiting his motivation and ability to balance work mentally. I thought August 22,2022 was the worst day we could possibly have but little did we know the future of this tumor would lead to more. The Neurology team recognized this aggressive tumor as Glioblastoma Multiforme and recommended a bulk resection.
All Jason could think about during that emergency visit was his kids, Parker (15), Paige (11) and Vivien (5). He was uncomfortable with the idea of undergoing a craniotomy without seeing his kids and having the privilege to tell them himself and in a way that wouldn't scare them.
Once home it was time for second opinions…this is your brain you only get one, so we wanted the best possible outcome and that meant the best hospital and neurosurgeon. We were flooded with recommendations and one name specifically kept coming up, Dr. Linda Liau. She seemed untouchable at that time. It was a good two and half weeks before we finally got an appointment with her and a few very rough second opinions in between where I thought "oh no, this is the worst day".
Jason's tumor was large and crossed the midline which resulted in a very tricky surgery to not leave him with any permanent deficits. The first neurosurgeon we met for a second opinion thought we were crazy to even think of a resection. Dr. Liau disagreed and gave us the hope we needed. This tumor needed a bulk resection to give to Jason the best outcome.
September 13, 2022 was Jason's craniotomy with bulk resection. A good 80% was removed, but there was a bumpy recovery road after resection.
Recovery was 10 days in the hospital followed by 17 days in an acute rehabilitation facility. Jason suffered from massive swelling and a brain hemorrhage (stroke on the brain) followed by a jugular thrombus, multiple fevers, and a few minor infections. All of these things slowed down his recovery and resulted in semi-permanent deficits. He was mentally impaired and could not sit up, walk, or stand. There were multiple "oh no, this is the worst day" following surgery, but we got through it.
Once home from the rehabilitation facility Jason thrived. He stayed positive and determined and before we knew it, he went from wheelchair to walker, to cane to nothing. Jason being home and around his kids was the best therapy for him mentally.
6 weeks of radiation along with chemotherapy started October 18th and ended November 29th. Jason kept strong during treatment and only suffered from fatigue and hair loss. In addition to radiation and chemotherapy, he uses a device called Optune that works by creating Tumor Treating Fields (TTFields), which are electric fields that disrupt cancer cell division.
Jason has remained positive and willing to do whatever it takes. There have been no complaints or "I don't want to's". I am amazed everyday by him. I truly believe his days as a boxer keep him up for the challenge, his days as a cowboy keep his will, and his precise electrical skills keep him going to get his deficits rewired. He is every bit the boxing cowboy electrician that wipes the dirt kicked in his face with his glove and wrangles life with positivity.
Images